GMA-Star Project Highlights: Hydraulic Steering Wheel Mould Carrier
RIM Polymers have successfully developed an cost-effective and ergonomically designed Hydraulic Steering Wheel Mould Carrier. This is one of the many successes borne out of the GMA-Star Project, an in-house R&D task force (headed by Guido Hauner) with a mission to create new innovative designs of dry plant machinery so as to complement RIM's established portfolio of wet machines.
The R&D process for the Hydraulic Steering Wheel Mould Carrier incorporated several feedbacks from our customers in the automotive industry. Modern CAD (Computer Aided Design) software such as Solidworks & stress simulation were also used to further refine and perfect the design. The end result is a compactly designed hydraulic mould carrier which changeable modules to meet the various needs of different customers. For example, the stand comes with adjustable feet to meet different operationally height requirements while the mixing head can be either front or back mounted. Future version of the mould carrier can be electrically driven as well.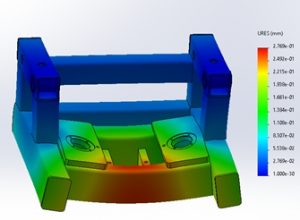 The design for the Hydraulic Steering Wheel Mould Carrier has since been well-received by the automotive industry as evident from the numerous confirmed orders received before any unit production had began. With the continued support from all levels of CEH Group, RIM Polymers aim to achieve sales of more than 250 units in the next five years.
For more information, please contact RIM Polymers: https://rimpolymers.com/contact-us/